Premium Filmz uses STEK Paint Protection Film because we want the best!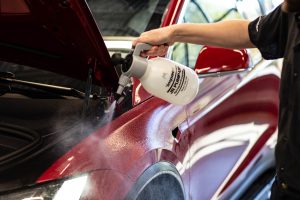 STEK USA Competitive Advantages
STEK (Shield Technologies) is a leading innovator in the automotive film industry. They use their fundamental understanding of film production to take an innovative approach in creating products that perform for the enthusiast providing unrivaled appearance, uncompromised protection and easy maintenance. With proprietary nano-ceramic infused clear bras, beautiful tint, and the industries only line of protective fashion films, STEK gives you have an opportunity to create experiences, spark creativity and inspire with tailored styles that offer world class protection.
The time to enjoy your vehicle is back. #STEKRevolution
Some attributes you will learn to love include:
Quality of Clarity: Tested by meter against major competitors, STEK DYNOshield has been found to be the glossiest, lowest textured and most clear Paint Protection Film on the market.
Note on Top Coat: Using unique manufacturing processes STEK has made keeping your car cleaner, easier. Their HYDROphobe® ceramic coating is infused at a molecular level in all DYNO films giving you an extremely hydrophobic surface that dirt and bugs rinse right off.  You can drive safe knowing that common surface scratches and dings from daily driving self-heal leaving you with a continually glossy finish. Other common paint perps such as acidic bug guts, deicer, and damaging UV rays are rejected with world class anti-contaminate, anti-yellowing technology.
Fashion Film: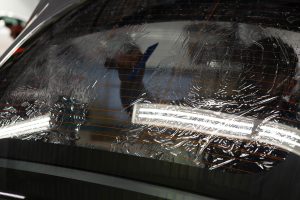 STEK Fashion Films are true Paint Protection Films that give you the ability to change the aesthetic appearance of your vehicle using a high-performing product. You can uniquely style and protect your vehicle at the same time with self-healing and hydrophobic carbon fiber, black, prismatic, or smoked Paint Protection Films.  STEK Fashion Films are the only line of colored films that offer a paint like finish that provides significant paint protection, true top-coat technology, and 7 years of warrantied longevity. If you want the highest quality color change that will maintain resell value and hold up to the ware and tare of daily driving for years down the road, you want STEK Fashion Films.
DYNOblack v. Vinyl:
DYNOblack is a Paint Protection Film (PPF) made from TPU vs. Vinyl which is made of PVC. The depth of DYNOblack's finish is closer to real paint than Vinyl and it provide significantly more protection than vinyl (8mil thick TPU v. 2mil thick PVC). The film is also self-healing from scratches, has infused hydrophobic nano-ceramic coating for easy maintenance, and is covered by a 7 year warranty where vinyl substitutes provide limited or no top-coat technologies and commonly have just a 2 year warranty.